Celeste Condominiums
Published on March 30, 2022
---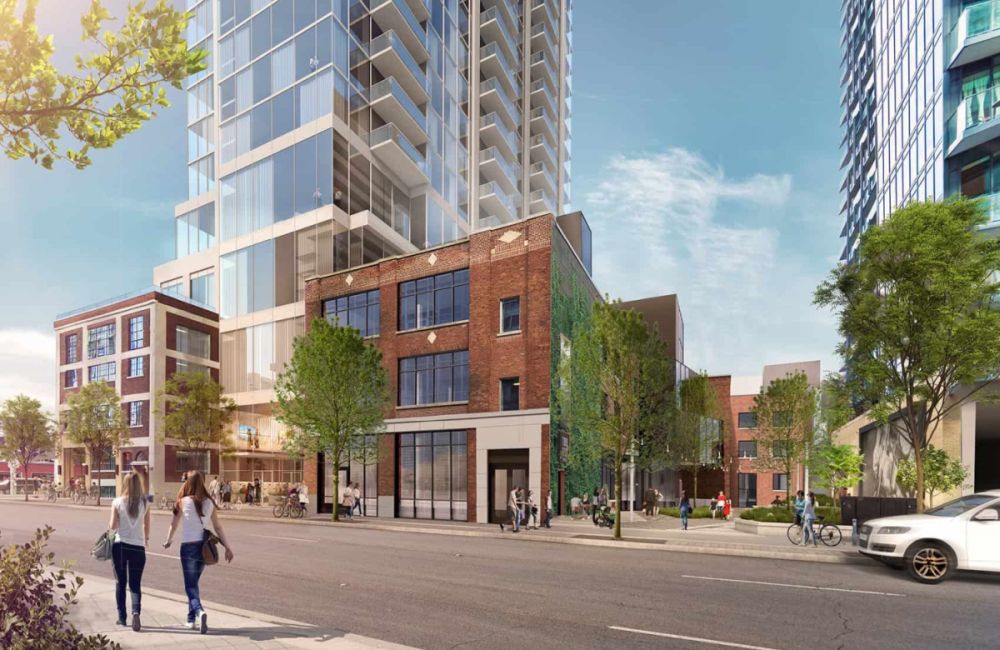 Location: 121 George Street
Neighbourhood: Old Town
Unit Sizes: 437 to 868 sq. ft.
Layouts: Studio to 3BR+den
Maintenance Fees: $0.69/sq. ft.
Expected Occupancy: Summer 2026
Walk Score: 96/100
Transit Score: 100/100
Bike Score: 98/100
Developer: Diamondcorp & Alterra
Prices: From the high $600,000s
Introducing Celeste Condominiums – a new downtown Toronto condo by Diamondcorp and Alterra.
Development Details – Celeste Condominiums
Celeste Condominiums is a 40-storey mixed-use residential and office development in a prime downtown Toronto location. The development will incorporate the existing structures at 109, 117 and 125 George Street, with a glimmering new tower between, behind and above them.
The residential part of the development will include 516 condo units, ranging in size from 437 to 868 sq. ft. and with layouts from studio to three-bedroom plus den. Maintenance fees at Celeste Condominiums are expected to be approximately $0.69 per sq. ft. per month and occupancy is anticipated to begin in summer 2026.
To learn more about the development, including floorplans, buying procedures and any special offers available, register with us today and connect with one of our sales representatives.
Neighbourhood Details
Located at 121 George Street in the Old Town neighbourhood to the immediate east of the downtown core, Celeste Condominiums is surrounded by local amenities and tings to do. It boasts near-perfect walk and bike scores of 96/100 and 98/100 respectively, indicating that almost all daily errands can be completed on foot or bike. Of course, it's not just daily errands that can be reached on foot as many of the highlights of Toronto are also within easy reach, whether it be the financial centre, universities, the Lake Ontario waterfront, theatres, shops, restaurants, or any of the other many attractions the city has to offer.
In terms of getting around, residents of Celeste Condominiums will have the best transit options possible. With a perfect transit score, the location has easy access to streetcar, subway, bus and train services. The closest subway station is just 700m away, Union train and subway station is just 1.2km away, and the streetcar services on Queen Street are as close as 240m. In fact, the journey to Billy Bishop Airport can take as little as 10 minutes. It means that residents will be able to reach other parts of Toronto, the GTA, Ontario and even farther afield with relative ease and efficiency.