Crosstown
Published on May 9, 2019
---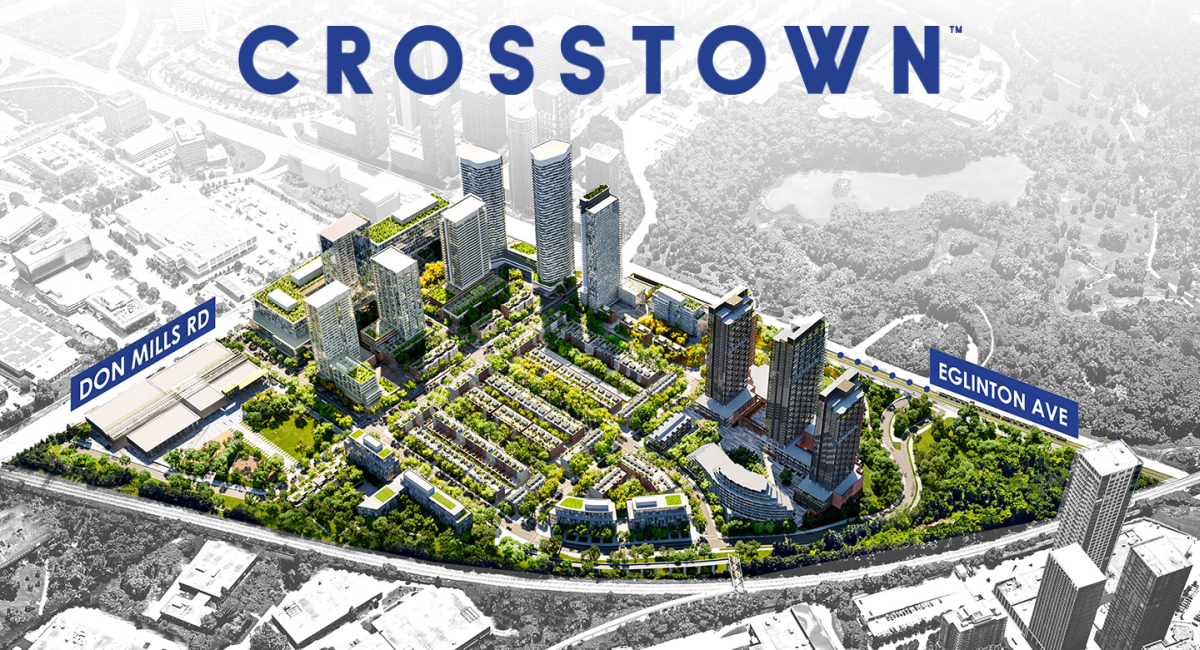 Location: 844 Don Mills Rd
Junction: Eglinton Ave & Don Mills Rd
Units: 4,974
Layouts: Studio, 1BR, 2BR, 3+BR
Floorplans: Coming Soon - Register for details
Prices: Coming Soon - Register for details
Walk Score: 69/100
Transit Score: 77/100
Developer: Aspen Ridge Homes
Crosstown by Aspen Ridges – a new midtown community that is one of the most ambitious new home developments ever seen in Toronto.
Development Details
The new community is being built on the site of the former headquarters of Celestica, in an area that borders Toronto's most extensive system of parks and trails. Situated on a 60-acre site on the north-west corner of Eglinton Avenue and Don Mills Road, Crosstown will be unlike any other Toronto development from recent years.
The scale of the multi-stage, mixed-use project makes it unique. According to the development application submitted to the city of Toronto, a total of 4,974 residential units will be built. There will be 10 high-rise condo towers with 4,053 units, 6 mid-rise condos with 519 units, 190 stacked townhomes, and 212 traditional townhomes. That's not all that will be built at Crosstown because a genuine community is set to grow there. In addition to the residential units, there will be over 61,000 square feet of office space, over 11,000 square feet of retail space, parks, playgrounds, and a new community centre for the benefit of local residents. The development will be split into four phases, with the initial release expected soon.
Transport
Crosstown has a transit score of 77/100, indicating that transit is convenient for most trips. That's because there is an extensive network of bus services in the area, with frequent and efficient services running down both Eglinton Avenue and Don Mills Road. In the near future, we can expect the transit score to improve considerably because the Eglinton Crosstown LRT is scheduled to open in 2021.
Plans for the Crosstown LRT include the Science Centre station, which will be located at the southwest corner of Eglinton and Don Mills. This will be an underground station for the LRT and a new, above-ground TTC bus terminal – all just a short walk away for the residents of the Crosstown community. With that easy access to the new LRT, riders will be able to quickly connect to Line 1 of the subway system, which opens up a wide range of travel options.