Streetsville Centre
Published on May 4, 2018
---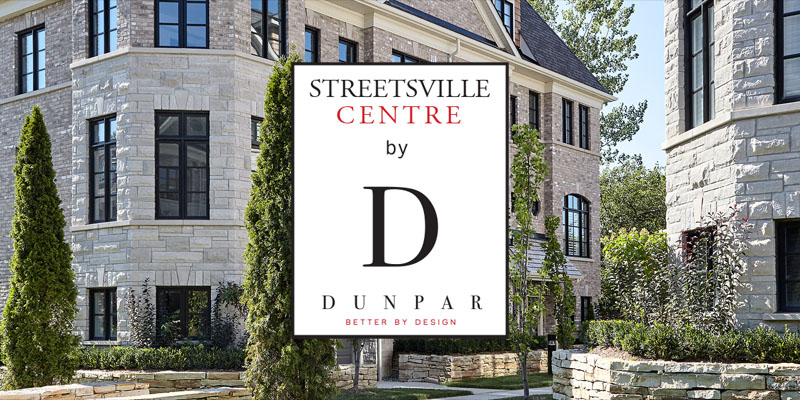 Sold Out
Location: Thomas St & Joymar Dr
Neighbourhood: Streetsville, Mississauga
Bedrooms: 3
Garages: 1-car and 2-car
Layouts: 1,500 to 1,875 sq. ft .
Number of Homes: 201
Ownership Type: Freehold
Developer: Dunpar Homes
Prices: From the $1.2 millions
Introducing Streetsville Centre –  a new collection of luxury townhomes in the historic Village of Streetsville in the heart of Mississauga.
Development Details
Streetsville Centre will be a community of 201 luxury townhomes, each with three bedrooms and an attached double garage. There are two main layouts that can be viewed in the floorplans above: Sagewood and The Fieldon. Sagewood designs have 1,500 square feet of interior floor space, a 240 square feet rooftop terrace, a 1-car garage plus driveway parking. The Fieldon has 1,875 square feet of interior floor space, a 195 square feet deck terrace and a 2-car tandem garage.
Dunpar Homes is known for producing quality builds and the homes at Streetsville Centre will have many luxury features to enhance their living experience. There will be luxury stainless steel appliances and a number of "gourmet kitchen features". The main floors will have 9'6" ceilings and the loft floors will have 9' ceilings. A variety of luxury bathroom features includes oversized mirrors, large soaker tub in master ensuite, a choice of ceramic tiles, and marble countertops in the main and ensuite bathrooms.
Neighbourhood Details
Known as the "Village in the City", Streetsville was founded in the early 19th century and was incorporated into the city of Mississauga in 1974. It still retains its unique character and has a number of historic buildings and streets that give it a unique character. The main thoroughfare, Queen St, is just a short distance from Streetsville Centre and has a small-town feel to it, with a number of independent businesses and shops that serve the local community.
The location of Streetsville Centre is currently in the school boundary for Vista Heights Public School, which is rated as one of the best elementary schools in Mississauaga. It is also in the boundary for Streetsville Secondary School, which ranked 141st out of 747 secondary schools in Ontario according to the latest rankings by the Fraser Institute.
Transport
This is a fantastic location for anyone commuting into Toronto. Streetsville GO station is just an eight-minute walk away and offers regular train services in the morning that can whisk you to Union station in as little as 42 minutes. As well as being a great option for commuters, those services also provide a gateway to Toronto and the rest of Ontario because of all the transit options available at Union station.
If your destination is closer to home, there are miWay bus services that run regularly in the area and can connect you to most areas in Mississauaga.