Daniels FirstHome Pickering
Published on July 4, 2022
---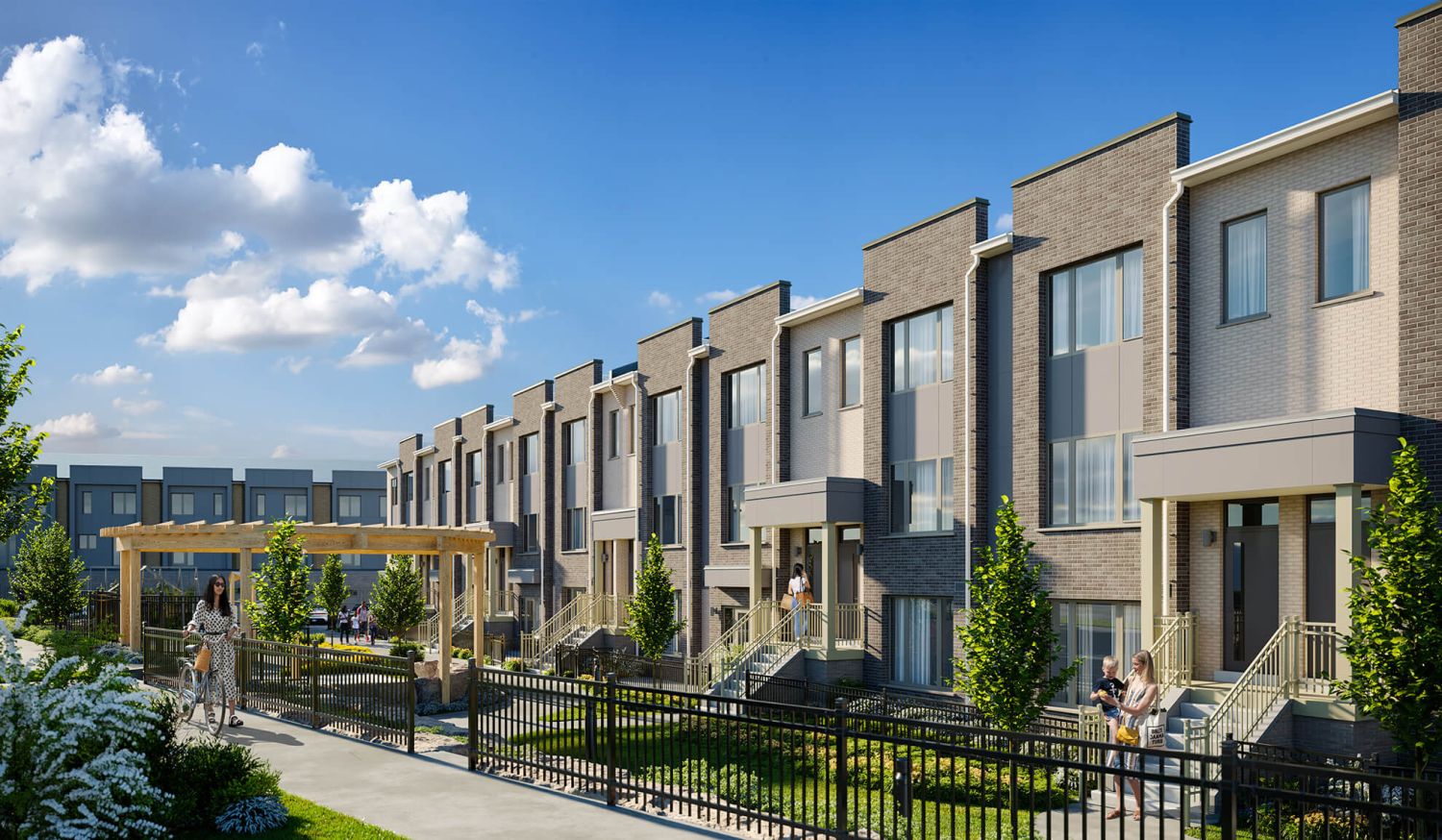 Junction: Valley Farm Rd & Kingston Rd
Municipality: Pickering
Number of Homes: 96
Expected Occupancy: Aug/Sep 2022
Layouts: 1BR, 2BR, 3BR
Home Sizes: 601 to 1,515 sq. ft.
Maintenance Fees: From $250/month
Developer: Daniels Corporation
Prices: From the low $600,000s
Introducing Daniels FirstHome Pickering – a new stacked townhome development in Pickering with units available to purchase with just 5% down.
Development Details – Daniels FirstHome Pickering
Daniels FirstHome Pickering will have 96 stacked towns in a development located close to the junction of Valley Farm Road and Kingston Road. The towns will have a variety of shapes and sizes. There are one-floor, one-bedroom units ranging from 601 to 665 sq. ft. and with prices starting in the low $600,000s. There are one and two-floor two-bedroom models that range from 995 to 1,324 sq. ft. and have prices starting from the mid $800,000s. Finally, there are two-storey, three-bedroom models that are 1,316 to 1,515 sq. ft. and have prices starting in the high $800,000s.
You can see all of the models in the floorplans available on this page, but there is also another way for you to view the units. The developer is employing a "a build-first approach", which, for buyers, means you do not have to buy a property based on the floorplan alone. You can visit the community and tour already-built models, so you know exactly what the look and feel of the property is.
To learn more about visiting the development and the buyer incentives that are currently available, register with us today and connect with one of our sales representatives.
Neighbourhood Details
Daniels FirstHome Pickering is located close to the centre of Pickering, which means there is an abundance of amenities nearby. Pickering Town Centre indoor mall is less than 1km away and offers guests over 150 stores to choose from, as well as a Cineplex and a number of restaurants and other businesses. 1km in the opposite direction on Kingston Road is a large shopping plaza with major stores like Lowe's, Toys R Us and WalMart. For recreation, Diana Princess of Wales Park is just 300m away from Daniels FirstHome Pickering and offers lots of sports fields and a large green space for other recreational activities.
When it comes to getting around, Daniels FirstHome Pickering is in an ideal location. Pickering GO station is just 2km away and offers train and bus services to elsewhere in the GTA and Ontario. The train station has regular services to downtown Toronto on weekday mornings, making it a great location for anyone commuting to the city.