Park District Towns
Published on October 1, 2021
---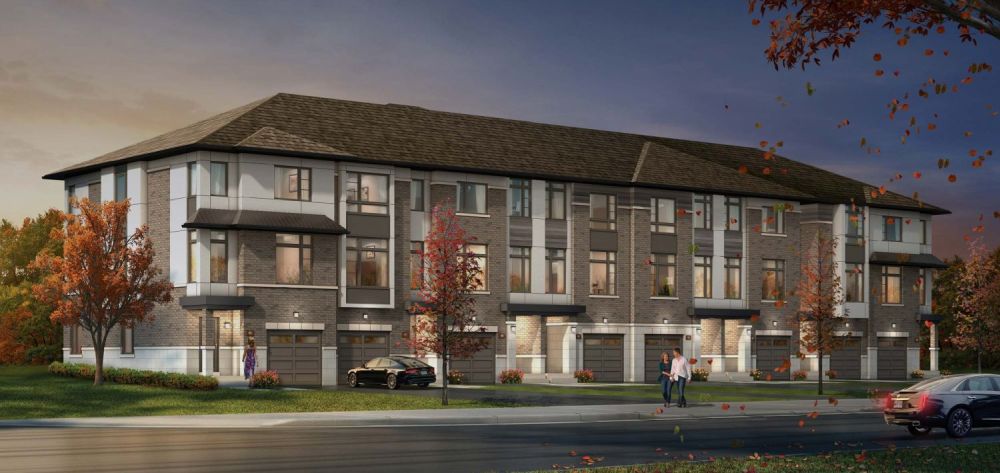 Location: 2540 & 2550 Brock Road
Municipality: Pickering
Number of Homes: 197
Home Types: Townhomes
Layouts: 1BR to 3BR
Home Sizes: 609 to 2,027 sq. ft.
Storeys: 1 to 3
Developer: Icon Homes
Expected Occupancy: Feb 2024
Prices: From the high $600,000s
Introducing Park District Towns – a new development of townhomes in Pickering by Icon Homes.
Development Details – Park District Towns
Located at the southwest corner of Brock Road and Dersan Street, Park District Towns will be a community of 197 townhomes, according to details form the most recent planning application. The total includes 68 stacked back-to-back towns, 61 stacked towns, 52 rear-lane towns, and 16 traditional towns. The stacked back-to-back towns will have two bedrooms, while the stacked towns will have two-bedroom or three-bedroom layouts. All the remaining models in the community will have three bedrooms. Homes will range in size from 609 to 2,027 sq. ft. in above grade floor space.
The centre of the new community at Park District Towns will have a shared space, with a walkway, kids' play area, and concrete pebble seating. This will act as a community hub where residents can get together, relax and play. The community will have a variety of parking options, with underground parking lots for the stacked back-to-back towns and either a garage or a private parking pad for all other homes. In addition to this, there will be 49 at-grade visitor parking spaces locate din the north-west corner of the development.
Neighbourhood Details
Park District Towns is located towards the north of Pickering; an area that is growing and has seen lots of new home developments in recent years. It is an area that is on the edge of the built-up areas of Pickering and the rural, green areas to the north, which provides a nice balance and quality of life. Residents don't have to travel far to find the usual amenities of a modern city or to experience beautiful trails and natural wonders in nearby conservation areas.
With major highways to the north and the south of Park District, getting around by car is very easy, even when commuting to other parts of the Greater Toronto Area. If you don't want to drive, Pickering GO train station is also within easy reach and provides an excellent option for hassle-free journeys to downtown Toronto.
With VIP Platinum access to the development and sales representatives who know Pickering real estate well, we can provide all the information and help you need to buy a home at Park District Towns. If you are interest, register with us today and connect with one of our salespeople.