Central District Towns
Published on August 16, 2021
---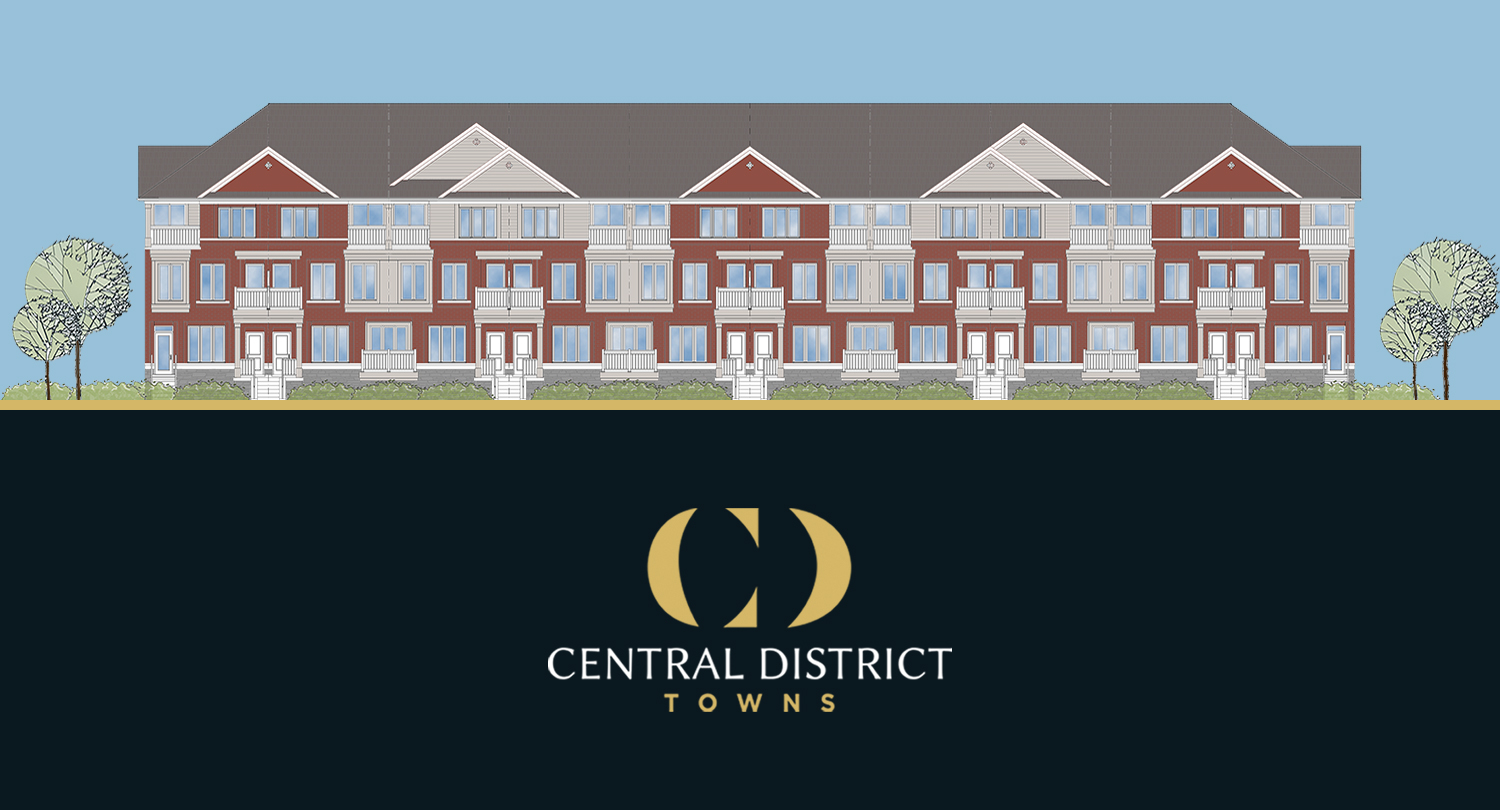 Location: 760-770 Kingston Road
Municipality: Pickering
Home Types: Townhomes
Number of Homes: 88
Layouts: 2BR
Home Sizes: 940 to 1,154 sq. ft.
Walk Score: 66/100
Transit Score: 50/100
Bike Score: 46/100
Developer: Icon Homes
Introducing Central District Towns – a new townhome development in Pickering by Icon Homes.
Development Details – Central District Towns
Central District Towns will be a community of 88 stacked townhomes close to the intersection of Kingston Road and Whites Road. There will be three townhome blocks in the development. According to planning applications, block 1 will front onto Kingston Road and will contain 30 two-bedroom units, while blocks 2 and 3 will be to the north of block 1 and contain 29 two-bedroom units each.
Most of the parking for the townhomes will be located in an underground parking lot beneath the three blocks. The underground parking lot will contain 86 residential spaces and there will be two more parking spaces at ground level, proving enough for one space for each unit. There will also be visitor parking at ground level, with 18 spaces available. There will also be enough long-term bicycle parking spots to allow one per unit, with 66 spaces at ground level and 18 in the underground parking lot. An additional eight short-term bicycle parking spaces will be available at ground level.
With sales launching in fall 2021, there is sure to be high demand for Central District Towns, similar to what we have seen with other recent townhome projects in Pickering. For a better chance of securing your preferred unit at Central District Towns, register with us today and connect with one of our agents to benefit from our VIP Platinum access.
Neighbourhood Details
Central District Towns is located in the west of Pickering, close to the city boundary of Toronto and with great access to transit options. Highway 401 is just seconds away and Pickering GO train station can be reached in a few minutes, making this an ideal location for anyone commuting to Toronto or nearby municipalities.
There's plenty more to enjoy nearby, however. Pickering town centre is just five minutes away by car and meets most people's shopping needs. Seven minutes to the south, you can find Rotary Frenchman's Bay West Park on the shores of Lake Ontario, with green spaces, beaches and nearby boating options for people to enjoy. Farther to the west and a similar distance from Central District Towns is Petticoat Creek Conservation Area – another beautiful green space looking out onto the lake.
For more information about the many nearby amenities, register with us today and connect with one of our Pickering real estate specialists.