Forest District
Updated on January 16, 2020
---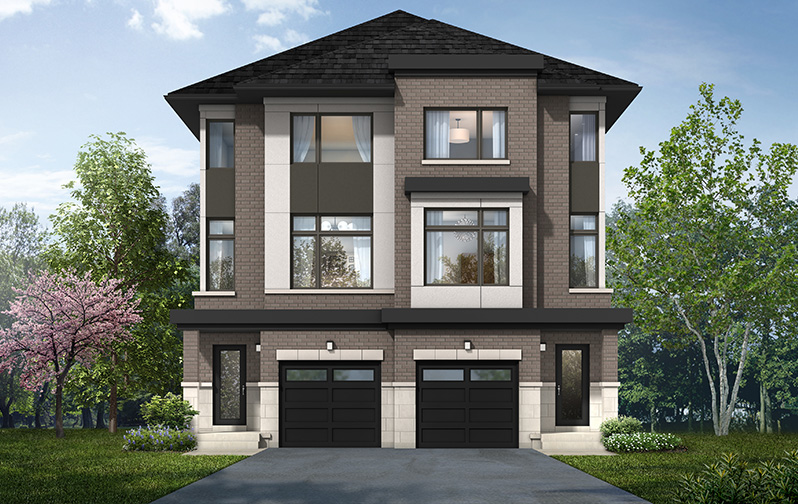 Sold Out
Location: 2026 Altona Road
Municipality: Pickering
Units: 69 Townhomes, 40 Semis
Prices: From the low $600,000s
Forest District by Icon Homes – a new community of freehold townhomes and semi-detached houses in Pickering, promoted exclusively by our sister company, International Home Marketing Group Inc., Brokerage.
Development Details
Forest District is a small development of 109 units – 69 townhomes and 40 semi-detached homes – on a private condominium road. The site plan shows 8 townhome blocks with a "natural play area" located in near to the centre of them that includes a playground and planting areas. The semi-detached homes sit in rows that border the western and northern edges of the community. Meanwhile, the plans envision a small park area in the southeast corner of the development which will offer residents a pleasant place to sit and relax.
The site plan shows that there will be two main types of townhomes: rear lane townhomes that front onto Finch Avenue and Altona Road, and block townhomes that are back-to-back and located in the centre of the development. The real lane townhomes are sold out, as is one of the block townhome models. However, there are still several townhome and semi-detached models available.
The townhomes that are still available range in size from 1,975 to 2,070 square feet and have three floors, yards at the rear, and attached single garages and driveway parking at the front. The layouts vary but all have three bedrooms except for the Elm model which is a 2,070 square feet corner unit with four bedrooms. The semi-detached homes range from 2,150 to 2,400 square feet and they all have three floors, a rear yard/garden, single garage, and a one-car driveway.
Price for the remaining townhomes begin in the low $600,000s while the remaining semi-detached homes start in the low $700,000s
Neighbourhood Details
Forest District in the north of Pickering on the junction of Finch Avenue and Altona Road. It is the northwest edge of the city, close to Toronto Zoo, where the built-up areas of Pickering meet the rural areas – meaning residents of Forest District can be close to nature while also enjoying on the amenities and benefits or a modern city.
One of the biggest benefits of that modern city is Pickering Town Centre – a large shopping mall that is less than 10 minutes away from Forest District. In addition to a large Cineplex theatre, the mall has over 150 stores, services, businesses and restaurants as tenants, catering to the needs of thousands of visitors each day. Of course, it's not just Pickering Town Centre that's available. As a well-established city, Pickering has many amenities and services for residents, covering almost all their needs.
Transport
With its convenient location, it is a great commuter spot. Highway 407 ETR is just a short distance to the north, with the closest junction just a nine-minute drive away. Highway 401 is even close, with the journey to the nearest junction taking as little as seven minutes. With those two options so close, it puts most of the GTA within easy reach and offers a simple commute to many locations.
There are also good public transport options close to Forest District. Pickering GO Station is just 10 minutes away and offers a number of options for travelers. The station is a major bus hub and also a train station, which means there are lots of different services that transport people across the Greater Toronto Area.