Limited Edition in Oak Ridges
Updated on July 31, 2019
---
Sold Out
Location: Yonge St & King Rd
Neighbourhood: Oak Ridges
Municipality: Richmond Hill
Units: 6
Home Sizes: 2,901 to 3,707 sq. ft.
Layouts: 4BR and 5BR
Developer: Garden Homes
Prices: From $1,429,900
Introducing Limited Edition in Oak Ridges –the final release in a high-demand luxury home development in Richmond Hill by Garden Homes
Development Details
The last phase of Limited Edition in Oak Ridges is a release of single family homes on 40ft and 42ft lots. It is the final release of a development that has been hugely popular so far, with the first phase selling out fast. The luxury detached homes will have an elegant look with brick, stone and stucco accents. Inside, all homes will have 10ft ceilings on the main floor, hardwood flooring and a variety of other luxury features. There are only five lots remaining and they are all unique, with five different layouts available:
Lot 1: The Taylor – 5 bedrooms, 3,589 sq. ft.
Lot 3: The Taylor – 5 bedrooms, 3,591 sq. ft.
Lot 4: The Lawrence – 5 bedrooms, 3,707 sq. ft.
Lot 8: The Mills – 4 bedrooms, 2,907 sq. ft., corner unit
Lot 9: The Mills – 4 bedrooms, 2,901 sq. ft., corner unit
Floorplans for each of these layouts can be viewed here.
The development is set in the middle of an established residential community and the five remaining lots will have some of those existing home owners as neighbours.
Neighbourhood Details
Limited Edition in Oak Ridges is set in a well-established part of the Oak Ridges community in the north of Richmond Hill. Some of the homes in the neighbourhood date from the time that Oak Ridges was a small rural community. Since then the community has grown and the large lots, open spaces and big homes have given it a luxury appeal. The neighbourhood boasts two elementary schools and the the P.A.C.E Academy for Gifted Children, plus a pleasant park with a playground, splash pad and sports fields, making it ideal for young and growing families. It is also somewhat smaller than other Richmond Hill neighbourhoods because of the large conservation area to the south. This has the added benefit of providing plenty of space for recreational activities and walking, running or cycling along the Oak Ridges Trail, which stretches past nearby Bond Lake and reaches a large wooded area on the eastern side of Bayview Avenue just next to the popular Wilcox Lake.
In terms of shopping, employment and other day-to-day activities, there are lots of options for residents. Nearby Yonge St. plays hosts to many businesses serving the local population with boutiques, cafes, restaurants and service destinations like spas, medical, consultation and business services.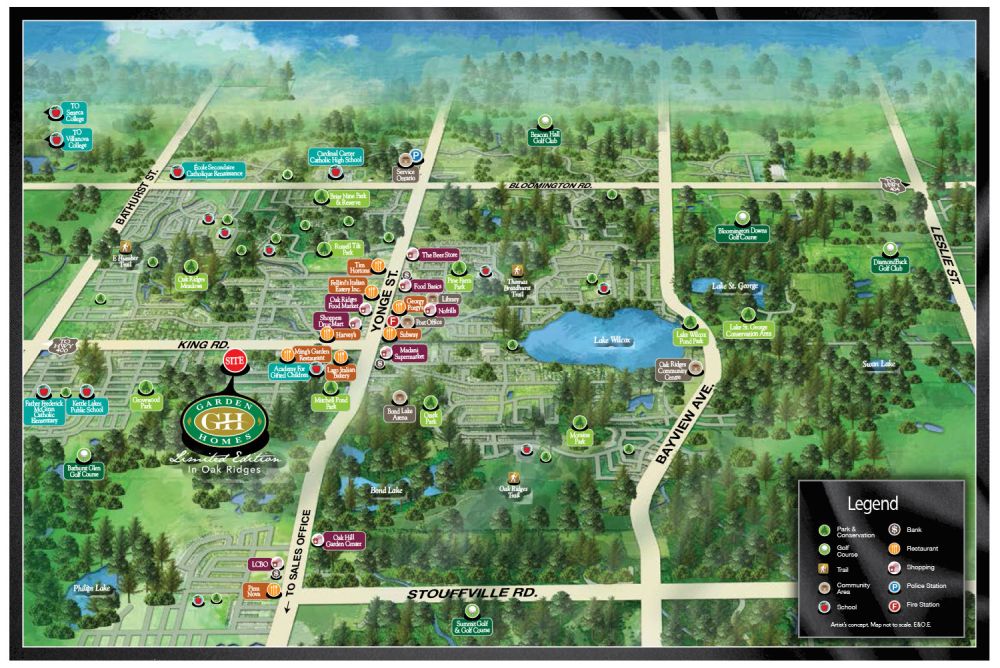 Transport
Public transport is somewhat limited in this area, although there are regular YRT bus services on Bathurst St, Yonge St. and King Rd. that can connect to other transit options. There's also King City GO station, which is a ten-minute drive away and is on the Barrie-Toronto line. As an alternative train route, there's a new GO train station nearby on a different line to Toronto: Gormley Station was opened in 2018 and is a short drive away close to the intersection of Stouffville Rd and Highway 404. From that station you can catch a train all the way to Union Station via Richmond Hill.
When it comes to driving, there are lots of options. Highways 400 and 404 are both nearby and can be reached in under 15 minutes. Meanwhile, many of the major roads in the area have higher speed limits because there are more open spaces, which lets everyone get around that little bit quicker.